From the blog
Downsizing for Seniors:  My Role, How Downsizing Advisory Service Does It.
(Aug. 18, 2013)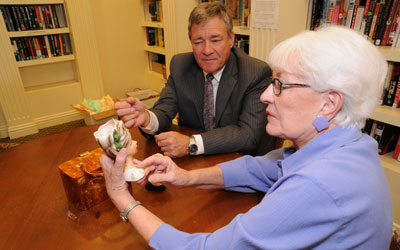 Periodically a senior community will get me involved with a potential resident who is trapped by their possessions and paralyzed with anxiety as to how to get rid of all their stuff. A life time of living creates a life time of stuff. That stuff is overwhelming for a 80- year old senior with even minor health issues. They lack the energy to go through all of that stuff and sometimes have no one to provide the manpower to go through their stuff. They are worried about giving away things which are valuable. They fear making a relative angry by deciding who gets the valuable items. The full closets, pantries, garage and cabinets are overwhelming. My role as a certified personal property appraiser and professional estate liquidator is to conduct an initial assessment need, determine who can help them, and recommend the companies who can provide services to help them.
My process:
The first step:  Identify what they own that is valuable and provide them liquidation options so they can make an informed decision what they want to do with their stuff. This removes the anxiety and fear that they will give away something that is valuable. Many have done this at one time or another in their lives as they have moved from place to place and the regret haunts them.  The simple knowledge that their china set is only worth maybe $300, the antique chest is only worth maybe $150 or the rocking chair is really only worth $35 often frees them from worry and allows them to move forward in the liquidation process.
The second step: Once they have the knowledge of the value of their belongings, they need to talk to their family or children about the things they own to determine who wants what. .. They often say their children do not really want their belongings, but I encourage them to ask one final time. Sometimes the items their family wants are not valuable, just good memories. They need to give the memory items to their children immediately and if they are ready to relinquish ownership of the valuable items now then they need to give them to their children or family members immediately. The act of giving away something without thinking too much about it often prepares them for the on going downsizing process to come. I always encourage them to pass family heirlooms on to family members.
The third step: Arrange for help to sort through their belongings. If they have local family engage them in the process. If they have no children or friends to help there are numerous options. Sometimes if the move is imminent a good senior move manager (member of NASMM the National Association of Senior Move Managers) can help them sort through their belongings and identify what can fit in their new residence and what will be left behind for an estate sale.  If they are not using a senior move manager then a professional organizer (National Association of Professional Organizer) may be referred to help them declutter and make decisions. In some cases the new senior community is helping with these decisions on what is being taken to their new home. Finally sometimes an experienced estate sale company can help them make decisions in conjunction with what items are being left behind to sell in their estate sale. I will sometimes oversee this process and it is not unusual for me to make three or four visits or handle a like number of phone calls to answer their questions and help them make decisions.
The fourth step: Liquidating their belongings.  The valuable items which are not being claimed by family should be sold at auction to maximize the revenue for them. I determine where the valuable items will sell best and get them to that auction house. I sell items at auction throughout the US and sometimes in foreign countries. Ebay is also used, as it is a worldwide selling vehicle that can reach buyers all over the world. I have sold client items to people in China, Turkey, Brazil, Russia, Germany, France, Australia, New Zealand, and a variety of other locations. I can also liquidate silver and gold jewelry and coin collections for my clients through local metals buyers.  The less valuable items including sometimes lower end antiques should be sold at an on site estate sale if they live where they can conduct an estate sale.  If they do not live in a community that allows estate sales, then a consignment store is the perfect venue for newer expensive furniture. A lower end action house can be engaged for collectibles and lower end antique furniture. And finally a charity can be called out to remove the other items from the home. The typical client only takes a few visits and the liquidation lasts just a few months although I did have one client whom I worked with a minor hoarder for a year and a half before they were able to move from their home to a senior residence.
Life doesn't come with a book that tells people what to do in each situation. Often we learn by trial and error. But the road is a lot less complicated and less troubling when there is a friendly contact that understands downsizing and the problems associated when liquidating a lifetime of personal belongings. That's my role.
Dale Smrekar ASEL, C.A.G.A.
President
Downsizing Advisory Service
813-244-4160