Educational Seminars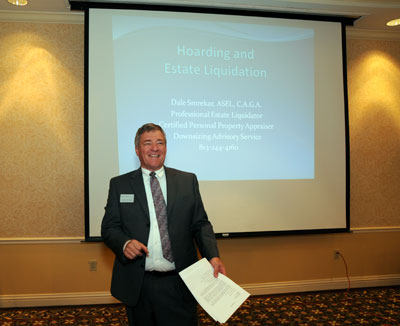 Dale Smrekar, AEL, C.A.G.A. offers a number of educational seminars throughout the Tampa Bay area to the general public, organizations and professional groups.
Seminars offered
"Protecting your loved one's valuables, avoiding theft and how to sell those valuables when money is needed."
When a loved one no longer resides in their home or is temporarily gone for medical care how do you protect their personal property and assets from theft? How do you sell those assets to maximize the return when money is needed?
"Hidden Treasures in Your Home: the value of antiques in an internet world"
What makes something valuable, identifying age, common misconceptions regarding antiques, Appraisals: Market Value versus Replacement Value. Trends in antique values and proper liquidation techniques for high end valuables.
"Establishing a Succession Plan for your Physical Assets, How to Avoid Family Wars"
The nuts and bolts process to establishing who gets what, how to avoid family wars, providing the financial roadmap, de-cluttering-how to make it easier on your family when you are gone, liquidation options and the importance of appraisals in securing family heirlooms.
"The Hearse Doesn't Come with a Trailer Hitch So You Can't Take It All With You."
A topical discussion about downsizing detailing how to:
determine when to downsize for you or a loved one
de-clutter a lifetime of possessions
consider succession planning for your assets, how to process through the ups and downs of who gets what
correctly liquidate your valuables and family heirlooms no none wants
let your loved ones know about your valuable items, the importance of appraisals in securing family heirlooms
"The Art of Estate Liquidation"
A step by step process detailing how to liquidate the contents of a home to include
The four estate liquidation mistakes that will cost you, the value of estate planning appraisals, searching for the hidden money and documents, common misconceptions regarding antiques and more. (Besides communities and civic groups, I conduct this seminar for new family and professional guardians and for CEU credits for area guardianship organizations)
"Military Antique Values in Today's Internet World"
How the internet has affected military antiques, Do's and Don'ts of sales of military antiques, what is hot in military antiques, the spoils of war: the things soldiers brought home.
"How to Avoid Getting Ripped Off When Selling Your Valuables and Antiques"
A review of common mistakes people make when liquidating their valuables and antiques. Covering the uniformed collector, mistakes made on inherited items and the estate liquidation of a loved one's estate, how to research what you have, when to call in an expert and options for liquidation.
"Liquidating a Loved One's Home"
The process of liquidating a loved one's home who has moved into assisted living, an Alzheimer's or a nursing facility. Covering such issues as: securing the residence, looking for the money, the search of papers, identifying the valuables, the use of auction houses for high end items and the estate sale.
For more information or to schedule a seminar please call 813-244-4160 or email us.
Elder Care Forums: Featuring Amanda Wolf, Genevieve Faulk, and Dale Smrekar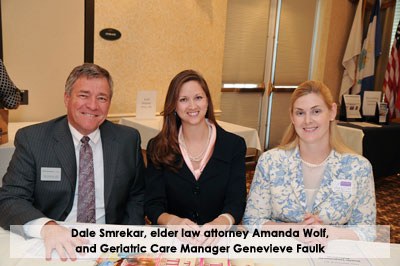 An interactive question and answer educational forum designed to provide answers to questions presented by caregivers, family members, individuals, and community professionals on legal issues, public benefits, care management, proper living arrangements for seniors, seniors at risk, downsizing and estate liquidation.
To visit Amanda M. Wolf's website, click: www.wolfelderlaw.com
To visit Genevieve's website click: www.agingcareadvocates.com
CLE Florida Bar Approved Courses
We also provide a 1 hour CLE Florida Bar Approved course on the Art of Estate Liquidation for Florida Bar members in their offices.
Scheduled Seminars